New from Big Finish: "Further to yesterday's exciting launch of our latest New Series Doctor Who adventures, we can confirm earlier release dates for River Song's Big Finish debut stories."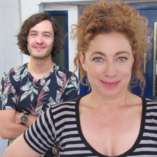 It can now be revealed that
Doctor Who: The Diary of River Song
, which had a mysterious release date of 'TBA' up until this morning, is to be released in January 2016. Only six months away! (Naturally, we know you can work that out for yourself, we're just a bit over-excited about it all.)
The bottom line is that you'll be getting to hear River Song in Big Finish audio action a lot sooner than you might have been expecting.
An epic four-hour adventure that takes River Song across space and time, seeking out the secret rulers of the universe.
The Doctor's past is catching up with him. And so is his future… As a dark chapter dawns for the universe, a friend is at hand. But how can River Song help the Doctor if she can't meet him?