The
official Doctor Who instagram
account has given us photos of the new monsters from Block 3 of filming on
Doctor Who
Series 35(9). The monsters feature in the episodes,
The Girl Who Died
and
The Woman Who Lived
, which star
Game of Thrones
actress, Maisie Williams.
Spoilers: Osgood is back – and so are the Zygons!
Also in the new series, we will see the return of a previous Doctor Who villainous monsters our , the Zygons. Last seen in the fiftieth anniversary special in 2013.
After coming to terms with the fact that one of our favourite characters, the lovable UNIT scientist and Doctor fangirl Osgood, was dead and according to Moffat, definitely NOT coming back – but now he has announced that she actually is! But is all as it appears?
Ingrid Oliver is back filming with the hit sci-fi show for a two-part special which will see Osgood return alongside Kate Stewart, played by Jemma Redgrave.
As if you need reminding, this is a particularly surprising announcement given that Osgood was murdered by Missy at the end of series 8. So what is going on?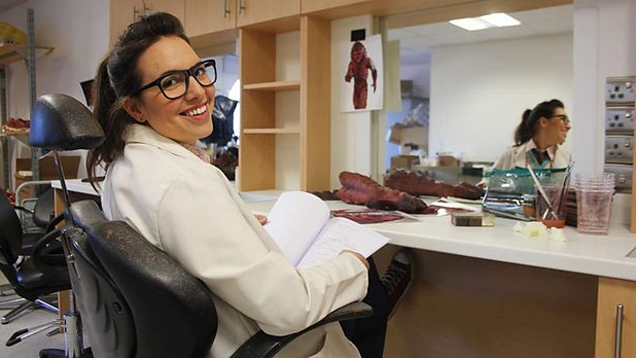 Ingrid back on set getting into her role as Osgood (Picture: BBC)
The BBC confirmed on Tuesday 5th May, that the character would return in a two-part episode later this year, currently being filmed in Cardiff; and not only that, she would be facing off once more against the Zygons, shapeshifting aliens that first appeared in the 1975 story Terror of the Zygons, before making a vaunted return during 2013's 50th Anniversary shindig, The Day of The Doctor. Here's Steven Moffat on Osgood and the Zygons' return:
Osgood is back, fresh from her recent murder at the end of last series. We recently confirmed that Osgood was definitely dead and not returning - but in a show about time travel, anything can happen. The brilliant Ingrid Oliver is back in action. This time though, can the Doctor trust his number one fan?
Question of course is, is she the real Osgood or a replica? We'll have to watch and see. Also returning is Jemma Redgrave ashead of U.N.I.T and Chief Scientific Officer Kate Lethbridge-Stewert