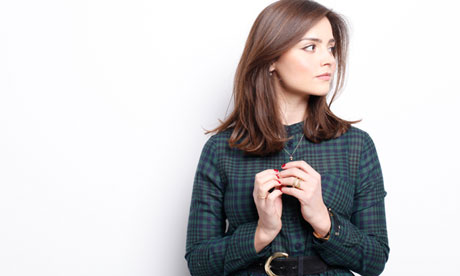 Jenna-Louise Coleman at Margaret Street Gallery, London: 'I was ready to leave Emmerdale when I did.' Photograph: Katherine Rose for the Observer
Fittingly, for an actress who last year debuted as a time- and space-hopping adventurer in
Doctor Who
,
Jenna-Louise Coleman
is thinking about multiple universes. She recently saw
Constellations
in the West End, a play that took on the idea of there being infinite dimensions – other worlds in which everything that
can
happen
does
happen. Sitting in a London cafe, she reasons: if parallel worlds exist, there's one in which I live in Hollywood and play an Australian in a sitcom, cracking terrible jokes about dingoes.
It almost happened: "Even though my Aussie accent is appalling," says Coleman, 26, who got to the final auditions for the sitcom job, in Los Angeles in 2011, before being called back to England to appear in the ITV
drama
Titanic
. That job opened up a seam of British work – a part in
Stephen Poliakoff
's drama
Dancing on the Edg
e
, a role in
Doctor Who
– that hasn't let up since. The Poliakoff is an ensemble piece about 1930s jazz musicians. Meanwhile, she has made two meaty
Doctor Who
cameos to date, including a show-stealing appearance at Christmas, and will be the Doctor's official companion in the next series. Coleman's character is a woman called Oswin, who exists (uh-oh) across multiple dimensions.
Read complete article here:
source