Sunday, 4th August 2013,
BBC One
aired
Doctor Who Live : The Next Doctor
; a special show to introduce theactor who will portray the
Twelth Doctor
to the world. That actor is
Peter Capaldi
. What do we know about him? What are his acting credentials?
Peter Capaldi is 55. That's 25 years older than Matt Smith, the 11th Time Lord, and the same age as the very first Doctor William Hartnell.
Capaldi described himself as "a lifelong Doctor Who fan" who had begun practising for the role as a nine year old in the school playground.
As the new Doctor Who was announced live on the BBC on Sunday evening, viewers were shown a letter written by Capaldi, then aged 15, to the Radio Times in 1988 in which he praised programme makers for their "excellent" Doctor Who special episode:
He urged the show's producers to make another "Special" in 15 years time to celebrate 25 years of "wandering in time with the Doctor".
Capaldi was born in Glasgow, Scotland. His mother's family was from Killeshandra, County Cavan, Ireland, and his father's family was from Picinisco, Italy.
He was educated at St Teresa's Primary School in the city's Possilpark district,
St Matthew's Primary School in Bishopbriggs,
and at St Ninian's High School, Kirkintilloch,
before attending the
Glasgow School of Art
.
Capaldi displayed an early talent for performance by putting on a puppet show in primary school. While at high school, he was a member of the Antonine Players, who performed at the Fort Theatre in Bishopbriggs. As an art student, he was the lead singer in a
punk rock
band called Dreamboys, whose drummer was future comedian
Craig Ferguson.
In a 30-year career, Capaldi has appeared on small and big screen, as well as the stage. His face will be familiar from all sorts of things, he played fictional Songs of Praise producer Tristan Campbell in two episodes of the sitcom Vicar of Dibley, and a transvestite in ITV's Prime Suspect3. In the Channel 4 series Psychos, he played a mathematician with bipolar disorder, made an appearance as a university professor in the sitcom Peep Show, and played a prime suspect in the 2007 series of Waking the Dead. In the television adaptation of Neil Gaiman's gothic fantasy Neverwhere, he portrayed the angel Islington. In 2008 episode of 'Doctor Who: The Fires of Pompeii'. He will be co-starring with Benedict Cumberbatch in the forthcoming film about Wikileaks, 'The Fifth Estate'.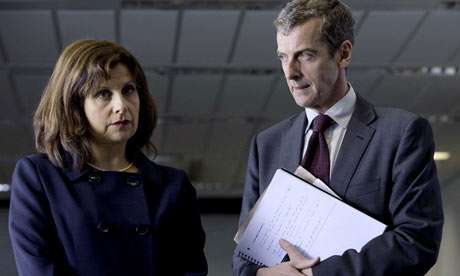 In 2005, Capaldi was cast in what is arguably his best-known role, as spin doctor
Malcolm Tucker
in the BBC comedy series
The Thick of It
, which he played from 2005 to 2012. The character was said to be largely, if loosely, based upon Tony Blair's right-hand man Alastair Campbell. Capaldi himself has said that he based his performance more on Hollywood power players, such as the often abrasive
Harvey Weinstein
.
For his performance as Tucker, he won a BAFTA Award for Best Performance in a Comedy Role and two British Comedy Awards.
A film spin-off from
The Thick of It
, entitled
In the Loop
, was released in 2009. Malcolm Tucker is a man who can turn the Cabinet Room blue with his stream of personal invective. Example: "When I want your opinion, I'll give you the signal, and the signal will be me being sectioned."
The new Doctor is a Patron of the
Association for International Cancer Research
, and of a Scottish children's charity, the
Aberlour Child Care Trust
.
Presently, Peter is filming a new 10-part BBC One adaptation of
Alexandre Dumas' novel The Three Musketeers.
He
will play the shadowy Cardinal Richelieu in
The Musketeers
, with Skins actor
Luke Pasqualino
as
D'Artagnan.
The drama is due to be broadcast in 2014 and has been written by Bafta winner
Adrian Hodges
.
Hodges said he was "thrilled" the actors have committed to his "modern and original take on this great story".
Speaking about The Musketeers, he said: "This series is all about passion, romance, heroism and action, and I can't think of a better group of actors to embody those diverse qualities."
The story is set in 17th Century Paris and follows a crack team of soldiers and bodyguards to King Louis XIII.
It recounts the adventures of a young, skilled fighter from rural Gascony called D'Artagnan, who dreams of joining the Musketeers of the Guard and meets the trio on a journey to right the wrong of his father's death
The Musketeers will be played by Great Expectations actor Tom Burke as Athos, Santiago Cabrera from Merlin as Aramis, and Howard Charles, who has acted with the Royal Shakespeare Company, as Porthos.

Come Christmas evening, we shall see Matt Smith regenerate from a young looking Doctor to an older one in the shape of Peter Capaldi. Time has yet to be confirmed by the BBC but is likely to be around either 6pm or 7pm. I personally can not wait and I am back to feeling like a child all over again.
For more info on Capaldi's acting roles, go
here
.