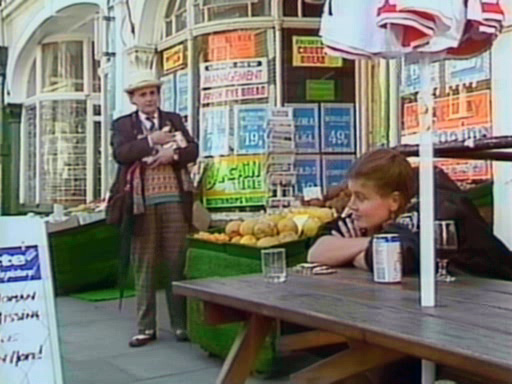 24 years
ago today, the original series of Doctor Who came to an end with the final story
'Survival'
with
Sylvester McCoy
as the seventh incarnation of the Doctor and
Sophie Aldred
as his teenage companion Dorothy 'Ace' McShane. It also had a cameo by the popular 1980's comedy duo Gareth Hale and Norman Pace.
Survival was the fourth and final story of Season 26 of Doctor Who. As such it was the final story to be broadcast, although not produced, of the classic series. The serial aired on Wednesday 22nd November 1989 and ended 3 weeks later on Wednesday 6th December 1989. Each episode were 25 minutes, and hard to believe by today's standard that was all we got back then at the end.
Interestingly, it is the last canonical televised adventure to feature the TARDIS prop designed by Tom Yardley-Jones's and commissioned by John Nathan-Turner. It made it's first appearance in The Leisure Hive and remained in use for the whole of his time as producer. It had a final outing in the 1993 Children In Need special Dimensions in Time before being retired.
Synopsis:
The Doctor brings Ace back to her home town of Perivale. Her old friends are being kidnapped by a race of alien hunters called the Cheetah People, who were shown the way to Earth by the Doctor's old enemy the Master (Anthony Ainsley).
Anthony Ainsley (20 August 1932 - 3 May 2004)
One of the Cheetah people
Before broadcast, Sylvester McCoy was asked to come back in and record the outgoing dialogue which is heard as The Doctor and Ace walk back to the TARDIS.
"There are worlds out there where the sky is burning, and the sea's asleep, and the rivers dream; people made of smoke and cities made of song. Somewhere there's danger, somewhere there's injustice, and somewhere else the tea's getting cold. Come on, Ace. We've got work to do"
DVD is currently £6.95 on
Amazon