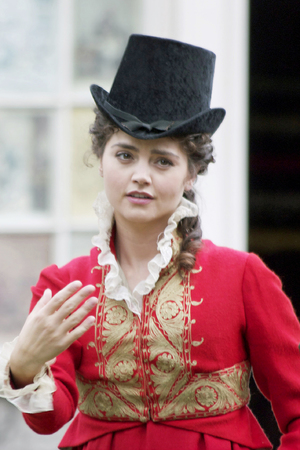 Current companion to out-going Doctor Matt Smith, Jenna Coleman will be starring in the
P.D. James adapatation
period drama
Death
Comes To Pemberley
which will be aired at Christmas on BBC One. Jenna stars alonside Matthew Goode, Matthew Rhys and Anna Maxwell-Martin.
The story is a continuation of Jane Austen's Pride and Prejudice and stars Matthew Rhys as Mr Darcy, who says he will be portraying a very different character to that portrayed by Colin Firth.
Although far removed from the original tome, international bestseller Death Comes To Pemberley imagines the marriage of Elizabeth Bennett - played by Anna Maxwell Martin - and Darcy (Rhys) six years on from their initial union.
Jenna Coleman is to star as Lizzie's sister – and Wickham's wife – Lydia, who arrives at Pemberley one night, six years after the conclusion of Austen's novel, screaming that her husband has been murdered.
The three-part BBC adaptation of the novel will air over the Christmas period, and was timed to coincide with the 200th anniversary of the publication of Jane Austen classic, Pride and Prejudice.
Below is the first official picture of the cast