HER face is barely recognisable but look beyond the warts, wrinkles and saggy skin and you just might spot one of Wales' most glamorous star hiding underneath
.
Because this 130-year-old hag is none other than stunning Torchwood actress Eve Myles, transformed from bewitching to wicked witch by six hours in the make-up chair for her role in new BBC prime-time drama Merlin.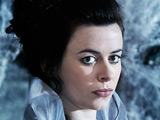 The 13-part series, which starts on Saturday, updates the story of the famous Welsh sorcerer of Arthurian legend. The story follows the fabled friendship between the young wizard Merlin and Prince Arthur. John Hurt voices Merlin's mentor, the Great Dragon, later in the series, Michelle Ryan, totally rebuilt after her experiences as the Bionic Woman, will play wicked sorceress Nimueh..

And Eve, who stars as evil witch Mary Collins alongside Richard Wilson as Gaius, Anthony Head as King Utter and newcomer Colin Morgan as Arthur, admits she's still amazed by her almost unrecognisable appearance.
The 30-year-old from Ystradgynlais said: "I'm not sure anyone will actually realise it's me and it's just so impressive what a bit of make-up and prosthetics can do.
"Mary certainly looks like someone who has spent 130 years without ever drinking water or eating any fruit and veg.
"It took six hours to make me up every day. Luckily I had a good team around me to keep me amused during the whole process."
After filming, it then took another two hours to convert Eve, who plays feisty Gwen Cooper in sci-fi hit Torchwood, back to her normal self.
But she admits that looking so evil certainly helped her get into character for the role.
For cast:http://www.digitalspy.co.uk/cult

"She's a great role to play, my very first villain, and she's a really nasty piece of work.
"She actually kills Dame Helen, a character which is also played by me.
"It was a bizarre experience because I had to do a scene right at the start of the episode with me talking to me.
"Mind you, watching it will be even stranger."
The much-awaited Merlin is the BBC's latest attempt to rival the prime-time family viewing success of Doctor Who – which Eve has also appeared in – and brings together a cast of acclaimed actors and new faces.
Filmed at locations around France and Wales, including Anglesey and Blaenau Ffestiniog, it is set in a time where magic is banned in Camelot, before Arthur becomes king and Merlin is coming to terms with his magical powers.
Producer Johnny Capps said: "Merlin, rather than being an unbelievably old and wise wizard is a young boy who works as Arthur's manservant and has to hide his abilities.
"He saves Arthur on a regular basis but always has to keep his magic a secret.
"We also wanted to subvert the expectations of Arthur.
"He is not the heroic king of legend.
"He is a young man, rather like Prince Harry, who likes to party, enjoys his status but who also shows kingly qualities.
"That then gave us great possibilities for taking the story on.
"We could follow the two of them to see how Arthur unites the land of Albion and Merlin becomes the great wizard."
As well as Eve, other guest stars include former EastEnder Michelle Ryan and Green Wing's Julian Rhind-Tutt. Acting legend John Hurt provides the voice for the Great Dragon.
Eve, who is currently filming a third series of Torchwood with John Barrowman, said she is looking forward to seeing the show.
"I'm so excited about the series and I'm convinced it will be a huge hit. It's so full of fantasy and intrigue, it's just fantastic.
"It's great to be involved with such an amazing production."
Merlin starts on BBC One on Saturday at 7.30pm
Episode 1
Saturday 20th September 2008

Merlin arrives at the gates of Camelot as a young man, sent by his mother to start a new life. Bright-eyed with wonder, Merlin steps into the square where a crowd has gathered. A man, accused by the tyrannical King Uther of using magic, is executed right before a horrified Merlin's eyes. In Camelot, the price for using magic is death. As the axe falls, an old woman, Mary Collins, swears that one day she will avenge King Uther for the death of her son, before disappearing into thin air.

A shocked Merlin makes his way across Camelot to find Gaius, the Court Physician. Taken by surprise, Gaius falls from the top of a ladder: instinctively Merlin reacts and uses his magic powers to break Gaius's fall. Instead of thanking him, Gaius turns on Merlin and warns him how important it is to keep his magic a secret or else he will face certain death.

As Merlin explores his new surroundings he sees a young man humiliating his manservant and decides to step in and stand up for the poor, ridiculed boy. This turns out to be a mistake on Merlin's part as he soon discovers the young man is the King's son, Prince Arthur. Merlin seems unable to heed Gaius's advice to stay out of trouble!

Merlin is thrown into the stocks as punishment for fighting Arthur and he meets a young maid named Gwen, who is clearly impressed by his heroic actions. Merlin, however, doesn't seem to notice her advances... When Merlin discovers the Great Dragon he begins to understand his true destiny – he must use his abilities to protect Arthur, the future King of Albion. Merlin refuses to believe this. Mary Collins returns to take revenge on Uther's son, Arthur, and Merlin must now take control of his destiny. Will he be able to save the young Arthur in time?