(By Ben Rawson-Jones, Cult EditorDigital-Spy)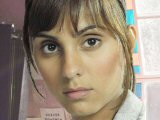 New
Sarah Jane Adventures
star Anjli Mohindra purged her Facebook account in order to be a good role model for the show's younger viewers.

Mohindra, who plays Rani Chandra in the CBBC drama, told Doctor Who Magazine that she took "all the really bad photos of me off Facebook" upon landing the part, "in case any seven-year-olds find my profile".

The actress, 18, explained that she took the measures "because we had role models when we were that age - you looked up at Britney and suddenly there she was hanging out of a car with everything on show, and it really disappoints you".