Anneke was born on October 20th, 1941, in Berkshire. Her parents Anna and Alaric Willys (she later changed her name to Wills) had planned to buy a house in the South of France but World War II ended that idea. Alaric was a gambler whose severe debts forced Anna to take on a string of jobs while he became a captain in the British army and an absent figure. Anna worked as a companion to a blind aristocrat, gardener, teacher - moving Anneke and her brother Robin around the country several times. Anneke won her first role at the age of 11 while she was living on a houseboat in Bray, Berkshire. The film was called
Child's Play
and she gave the £9 fee to her mother. Deciding she wanted to be an actress she then studied drama at the Arts Educational School in London and quickly became one of the busiest actresses of her generation, early roles included an appearance as Roberta in the first TV version of
The Railway Children
in 1957.
She appeared in the show from 1966 to 1967 alongside William Hartnell and Patrick Troughton as the Doctor - the first in a long line of glamorous Doctor Who girls Travelled with the Doctorbetween The War Machines and The Faceless Ones.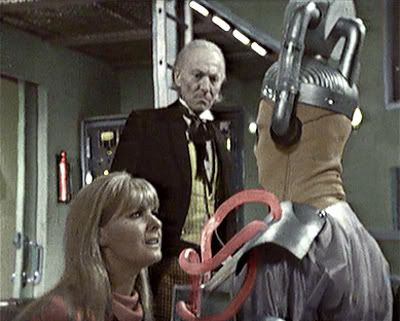 Polly was the the secretary of Professor Brett, who had developed a malevolent computer called WOTAN. Personable, and strong-willed, Polly had recently befriended a despondent sailor, Ben Jackson.
The Doctor defeated WOTAN and the tank-like mobile War Machines it commanded. The Doctor accidentally took off with Polly and Ben on board, leading them into a series of adventures, including the Doctor's first encounter with the Cybermen.
Ben and Polly were present when the Doctor regenerated for the first time. When their travels eventually returned them to contemporary Earth, Ben and Polly took the opportunity to leave.
Other television credits include appearances in The Avengers and as Evelyn in Strange Report. However she left the latter series when it was planned to switch filming to Hollywood.
Anneke has had an extraordinary life. One of her early boyfriends was Daphne du Maurier's son, Kits Browning but it was Edward Fox who was her first love. At 17 she began a relationship with Anthony Newley while working on the TV series The Strange World of Gurney Slade. Later, she married Michael Gough, the distinguished actor who played The Celestial Toymaker in Doctor Who.
During the sixties Anneke spent much of her time at the famous Troubadour Coffee Shop and The Establishment, and was part of the so-called Chelsea Set, counting among her close friends Peter Cook and Dudley Moore, The Alberts, Sammy Davis Junior, Angela Douglas and Kenneth More, Mary Quant, Sarah Miles and many more leading lights of the Sixties.
In 1966 she was offered her role in Doctor Who and life seemed perfect for the young actress. However after leaving Strange Report her professional acting career drew to a close, she moved to Norfolk with Gough and found an Elizabethan farmhouse which they bought and she threw herself into motherhood and gardening. For years they were happy but when Gough started work at the National Theatre and returned to Norfolk only at weekends, the strain began to tell. He was also womanising and though, as with Newley, Wills initially let this slide, the situation deteriorated and after two years of trying to keep it together they admitted defeat and divorced. She walked away from the marriage without asking for any alimony. Her next move was to take a course in meditation in London which led to her finding out about the teachings of Bhagwan Shree Rajneesh. Leaving daughter Polly who was then 14, she took 12 year old Jasper with her and headed for India, donning the orange robes of Bhagwan's cult followers and joining his ashram where free love was the order of the day. However Wills was more interested in meditation and after initial doubt of her decision she settled down and stayed in the ashram from 1975 to 1981, at one stage spending ten days blindfolded on a cushion. She then followed Bhagwan and his disciples to Oregon.
There is much, much more to this amazing life...and it can be read about in Anneke's Autobiography,
'Self Portrait'
.
£11.99 plus £2.00 p&p
If you would like your book signed, please allow up to 4 weeks for delivery, and please ensure that you include a note with your payment stating who you would like the autograph dedicated to.
Coming soon.
Volume 2 of Anneke's autobiography.
The second part of her autobiography continues from the 1970's through to the present day.
£11.99 plus £2.00 p&p
Anneke on Facebook
There is now an official Facebook group for Anneke - simply search on 'Anneke Wills' and the group will be at the top of the search results.


Polly Returns in Brand New Doctor Who Adventure
Written by Steve Lyons, 'Resistance' is a new Doctor Who adventure in Big Finish's 'Companion Chronicles' series. Anneke reprises her role as Polly, and tells the story which features the second Doctor, Ben and Jamie in occupied France during the second world war. For the first time, we see Polly's point of view, as she confronts her own history. Release date to be confirmed, but likely to be summer 2008. Watch the Big Finish Website for news.
Resistance is expected for release in March 2009.
Drawn by Anneke herself and on sale from her
website
for £15. You can view more of her drawings at her
shop
.