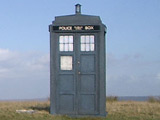 A couple from Devizes, Wiltshire have converted a Tardis into a garden shed.
Doctor Who fans Philippa Morgan and Declan McSweeney saw the phone box up for auction from Wiltshire Fencing and Landscaping and emerged as the winning bidders, paying £202 for the 10ft tall replica.
"We needed a shed for our allotment and we thought the Tardis would be something a bit different. We were thrilled to bits to get it," Morgan said.
"It's become a talking point, people ask us how the Tardis is and it's fun for children to see it."
The couple plan to hold a "Tardis-warming" party when the weather improves.
By
Simon Reynolds
, Entertainment Reporter
digitalspy.co.uk/