Today, the 1st February is
Elizabeth Sladen's
61st Birthday!
H

A

P

P

Y

B

I

R

T

H

D

A

Y

!!
Early career
An only child, Sladen developed an interest in performing at an early age, beginning dance lessons when she was five and dancing in one production with the Royal Ballet. She eventually turned to acting, and after finishing grammar school, attended drama school for two years.
Following this, she began work at the Liverpool Playhouse repertory company as an assistant stage manager. Her first stage appearance was as a corpse. However, she was scolded for giggling on stage, thanks to a young actor, Brian Miller, whispering the words, "Respiration nil, Aston Villa two" in her ear while he was playing the doctor. Sladen was so good as an assistant stage manager that she did not get many acting roles, a problem she solved by deliberately making mistakes on several occasions. This got her told off again, but she started to get more on-stage roles.
Sladen eventually moved into weekly repertory work, travelling around to various locations in England. Sladen and Miller, now married, moved to Manchester, spending three years there. She appeared in numerous roles, most notably as Desdemona in Othello, her first appearance as a leading lady. She also got the odd part on Leeds Radio and Granada Television, eventually appearing as a barmaid in six episodes of the long-running soap opera Coronation Street. Sladen made her first, uncredited, screen appearance in 1964 in the film Ferry 'Cross The Mersey as an extra.
In 1972, Miller was appearing in a play that moved down to London and they had to move along with it. Sladen found city life a bit of an adjustment, but eventually adapted. Her first television role in London was as a terrorist in an episode of Doomwatch. This was followed by guest roles in Some Mothers Do 'Ave 'Em and Z-Cars.
Doctor Who

In 1973, Sladen joined the cast of Doctor Who as the show's enduring companion Sarah Jane Smith to Jon Pertwee's Doctor in The Time Warrior. She witnessed the third regeneration from Pertwee to Baker. She left at the end of the serial The Hand of Fear in 1976. 1981 Sladen reprised her role as Sarah Jane in the pilot K-9 & Co. This did not do so well due to a poor script. In 1983 Sladen appeared in the 20th anniversary special The Five Doctors. She reprised the role again in the 1993 Children In Need special Dimernsions In Time, and in the 1995 independently produced video Downtime alongside former co-star Nicholas Courtney as Brigadier Lethbridge-Stewert and Deborah Watling as Victoria Waterfield. This was her last on-screen appearance as Sarah Jane Smith until the 2006 Season 28 (Series 2) episode School Reunion, with David Tennant as the Doctor.
The Time Warrior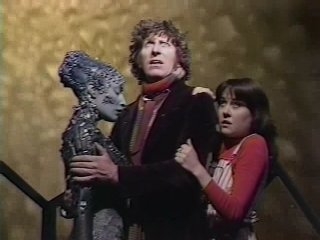 The Hand of Fear

The Sarah Jane Adventures

Christmas 2006 saw the Pilot episode of The Sarah Jane Adventures, which in 2007 became a fully fledged series and followed by a second series in 2008. A third is planned later in 2009. Elizabeth returned to Doctor Who in Season 30 (Series 4) in the final two of a three part finale - The Stolen Earth & Journey's End, which saw the return of our favourite baddie and Dalek creator DAVROS.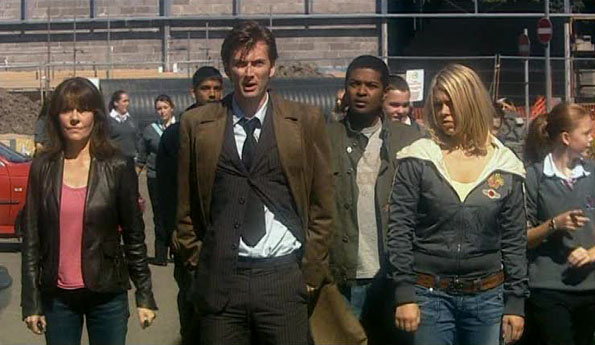 School Reunion
The Stolen Earth
Journey's End