By Dave West, Media Correspondent (Digital Spy)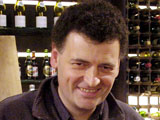 Steven Moffat pulled out of a lucrative deal to write a second Tintin movie in favour of taking over from Russell T. Davies on Doctor Who, it has emerged.

Moffat has written the first Tintin and was contracted to pen a second under a two-film deal said to be worth £1 million.

Moffat said Steven Spielberg, who is creating a trilogy based on the comic book character, is a fellow Who fan and respected his decision.

"I know a lot of people won't understand it but I've been dreaming about writing for Doctor Who since I was seven," he told the Mail on Sunday. "There are no bad feelings between Spielberg and me, but Doctor Who has to come before Hollywood.

"I was under contract to do the first two of the three Tintin films. I completed the first one and then the Hollywood writers' strike happened and I couldn't work. I was offered the Doctor Who job and accepted immediately. I hope you won't make what happened sound too dramatic."

Moffat, whose first series in charge will air in 2010, added: "I talked to Steven and he understood completely. Steven is a fan and he understood my passion for the series completely."